GreenLight
Drilling oil and gas wells has the possibility of significant impacts to both the environment and rig personnel. The blowout preventer (BOP) is a critical piece of well control equipment designed to keep both the environment and personnel from harm. Both state and federal regulations reflect this by requiring strict testing BOP protocols be satisfied.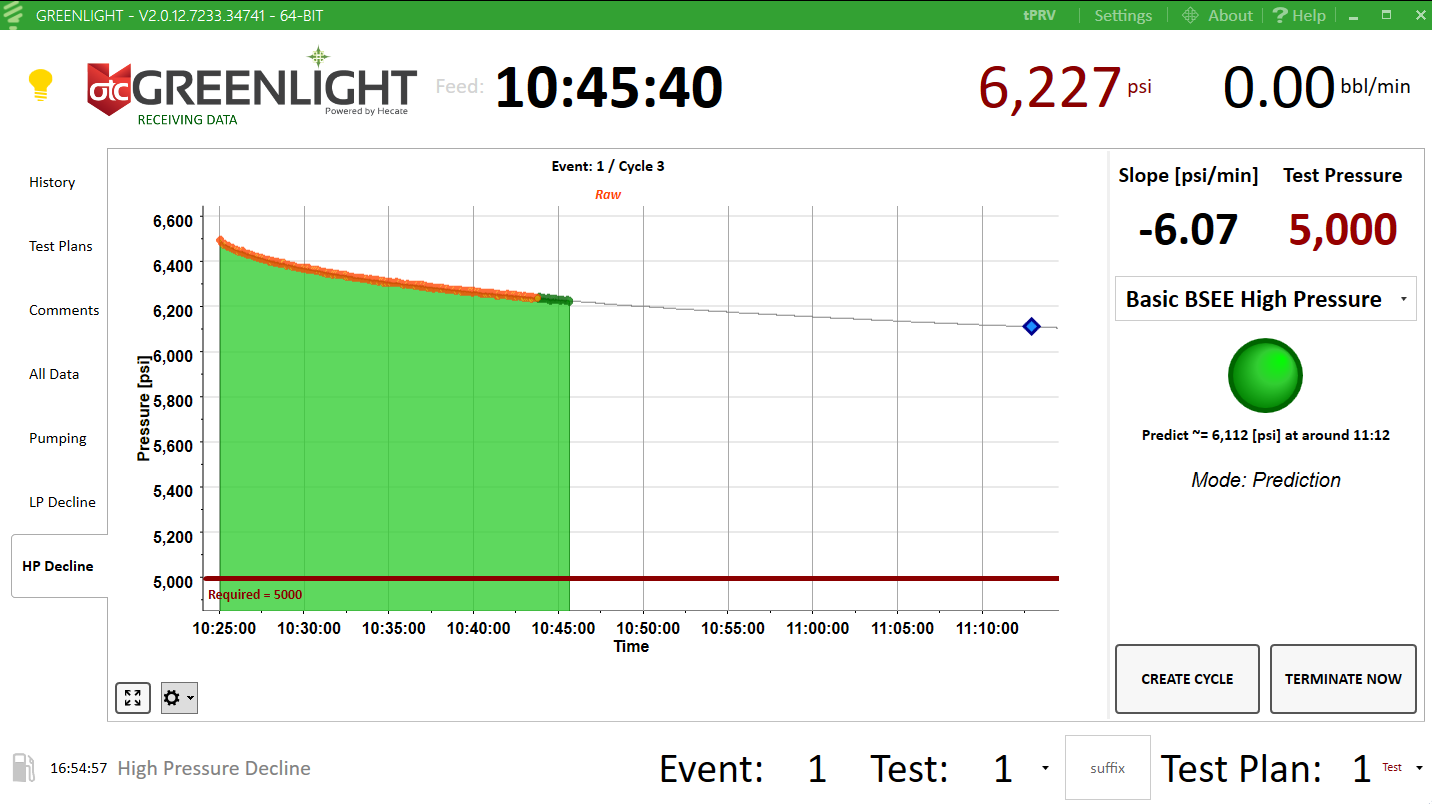 Solution
GreenLight is software that has been approved by the US Bureau of Safety and Environmental Enforcement (BSEE) for testing BOPs. GreenLight analyzes data collected when pressure is applied to the BOP and replaces the need to run traditional circle charts.
GreenLight improves safety at oil and gas facilities a.) by reducing the time that rig personnel are exposed to the high pressures required during testing and b.) by reducing wear and tear on BOPs and other critical well control equipment thereby increasing the likelihood that they will work during an emergency.
BOPs must be tested to both a low-pressure and a high-pressure and GreenLight performs these tests according to the strict standards of 
30 CFR 250.737
 (CFR = Code of Federal Regulations). The result of every test is updated every second and is reported to the user as passing (green), failing (red) or inconclusive (yellow). High pressure tests benefit from a unique algorithm that allows GreenLight to forecast the outcome of each test, possibly allowing the test to be ended earlier than would be possible with a circle chart. GreenLight assesses every test independently of all other tests – Test #1 is performed independently of Test #2, Test #3 and Test #100. This independence is inherent to GreenLight's design criteria and because of it GreenLight can easily handle pump-ups – simply pump-up and start again – and doesn't carry restrictions on the pump-up rate or the test pressures encountered for each test of the test series. GreenLight can even benefit singular tests such as Break Tests and Connector Tests. Data is stored in a proprietary, binary file format that is secure and only readable by tools in the OTC GreenLight suite of tools.
Since day 1, GreenLight has been inherently designed to be extendable. Its original design included modules for low-pressure and high-pressure BOP tests. But today it includes modules for integrity tests, test performed according to criteria utilized in the North Sea, and others. Tomorrow it can include custom modules to meet the standards set by you.

GreenLight was approved for use as the system-of-record for BOP tests by the Bureau of Safety and Environmental Enforcement (BSEE) in 2015 and again in 2017. It has been used at various locations worldwide for BOP testing since that time.
Contact
For more information, please contact Hecate Software via e-mail at 
Eric Livesay
 or by calling 
(817) 921-2879
. GreenLight is licensed exclusively through our partner, Offshore Technical Compliance (OTC). They can be contacted through their website 
https://otcompliance.com
.